What kind of label did you have as you were growing up?


There are many ways that we're labelled to differentiate ourselves from others. Amongst our family or friends we become known as 'the pretty one', 'the funny one', 'the smart one', 'the rebel', 'the loud one'. These labels form part of our identity, and we do our best to keep hold of them if they are positive or shake them off if they are negative.
In my family, I was the 'good one'. I was also 'the clever one'. They are, as labels go, fairly positive ones to have. But even these positive things can become destructive so easily. How do you know when you are 'good enough'? How do you know when you are clever enough?

This is something that Emma Scrivener explores in her new book, 'A New Name'. She was the 'good one', the 'clever one' – but it didn't feel enough. She became a Christian at the age of 13, and soon after she developed an eating disorder.
Feeling unsure of her identity, both as a teenager and as a Christian, anorexia gave her a sense of identity. In the midst of uncertainty, anorexia gave her back control.

She showed me anorexia
I found it to be an unexpected read. Firstly because it was so well-written and compelling I found myself staying up late to read it; I was gripped from the first page. It is one of the most beautifully written, witty and engaging autobiographies I have ever read.

This description of anorexia gives you an idea of her gift with words:
"You see, the face of anorexia is a terrible thing. It's not a glossy model in a perfume ad. Or a delicate patient, emaciated, yet beautiful. It's a cadaver, cloaked in sequins, modelling her new clothes. It's a starving animal, circling the empty cupboards. A creature, splattered in vomit, blank eyed and vacant. A child, rocking back and forwards in the darkness. Foraging through the bins for mouldy bread. Chewing it and spitting it out. It a face frozen in a rictus grin, mouthing lies. 'I'm fine', it says. 'Everything is under control.'" A New Name, p. 121

Emma writes so vividly and honestly about how it feels to have an eating disorder. I have read a fair amount on eating disorders but this was the first time I really felt I had an understanding of what anorexia felt like and its complex causes.

Somehow she manages to convey simultaneously the addictive pull of obsessively reducing your food intake as a way of gaining back control on your life, whilst also exposing the horror of slowly starving yourself to death. Her writing walks the tightrope of the cold logic and sheer madness of an eating disorder. As I read it I felt both with her.

She showed me myself

But as well as beautiful, it was a disconcerting read. I thought I would be reading about Other People: People Who Get Eating Disorders – and I was confronted with myself. The picture she painted of the unsure teenager, the perfectionist student could have been me. I don't have an eating disorder, but she wrote my story.
Underneath, we have the same spiritual problem. We had the same idol. The impulse to succeed, the desire to excel, the determination to prove oneself and push yourself. The desire for control over things that you can't control.
"As my eating disorder took hold, I was just as 'religious' as I'd always been. I was still trusting in God. The difference was that this god had a small, rather than a capital 'g'. And surprise, surprise, it was a god that looked just like me. The god of performance, hard work, externals and rituals. A god that gave nothing of itself, but demanded everything in return." A New Name, p. 83

The consequences of her idol were an eating disorder; the consequences of my idol were a few brushes with moderate-severe depression and then refusing to listen to my body when it was getting more ill. But the idol was the same. I suspect that we are not the only ones.

We tend to dismiss perfectionism as the one acceptable weakness that you can list in a job interview. But it is dangerous and destructive.

She showed me Jesus
There was one part of the book that left me in tears. It was not the part where her mother was confronted for the first time with the sight of her near-skeletal body, nor when she realised that she was in love with her friend who had just been kicked out of the country.

The part where I cried was at the turning point in Emma's recovery, when, having been a Christian for many years, she begged for his help and was confronted with the person of Jesus.

In Jesus, we escape the labels and the need to prove ourselves. He gives us a new name, a fresh start, a new identity. Her exposition of Revelation touched me deeply; it was such a loving and beautiful description of our saviour, and it left me in worshipful tears.
If you, like me, are someone who struggles with feeling weak, and wants to see Jesus more clearly, I suggest you buy this book immediately, whether or not you know anyone who has an eating disorder.

Through writing so honestly about the clay jar of her body and character, she exposes the treasure of the gospel, and the gentleness and beauty of Jesus. A New Name is one of those best kinds of biographies (and indeed, the best kinds of lives): those which reveal their character truly, weaknesses and all, and in so doing allow Jesus to shine through.

Buy her book, A New Name here
Emma blogs at A New Name

Over to you:
What was your 'label' as a child? Did you like it?

Can you relate to the need to prove yourself?
Linking up with WIP Weds, Joy in this Journey (Life:Unmasked)
and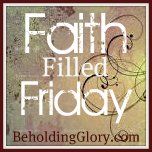 Liked this post? Keep in touch: Subscribe by email or 'like' my Facebook page.