You always run faster when there is a crowd cheering.
I noticed this at the Olympics – how many personal bests were achieved, records broken. Some of that will have been from the thrill and challenge of competing, and beating others. Some of that, I suspect, is from the volume of the cheers, and the weight of expectation in their voices.
The runners carry the good wishes of their nation in every step, and that is enough to quicken it.
The Bible says that the Christian life is like a race. On a day like today, when I feel like I am flagging and need cheering on, I go to Hebrews 11.
I read with comfort the list of those who have gone before me, the ragtag crazy bunch of people, messed up in various ways, whom God is pleased to name as heroes of the faith. The adulterers, the questioners, the wrestlers; they limped through, and they won.
Today I am glad that David, Gideon, Jacob, Rahab are listed as people of faith, the people who had their eyes fixed on things unseen, who longed for a better country.
Today I listen for their voices, in that great cloud of witnesses, cheering me on to keep running, to keep my eyes fixed on that better country, that glorious saviour.
"Therefore, since we are surrounded by such a great cloud of witnesses, let us throw off everything that hinders and the sin that so easily entangles. And let us run with perseverance the race marked out for us, fixing our eyes on Jesus…" Heb 12:1-2a
With thanks to Scott Herron for the encouragement this week
Over to you:
Whose voices do you need to hear today, cheering you on in the race?
This was my best five minutes on 'the race'. Also linking with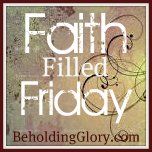 Linking with Joy in this Journey, Imperfect Prose, WIP Weds 
Liked this post? Do stay in touch – subscribe by email or like my Facebook page.