I remember his tiny fingers, all tightly curled around my one; the instinct of infancy, the comfort reflex.
He held on because he didn't know how not to hold on.

******

A year and a few months on, he toddles towards the door excitedly, then daunted by the new faces he retreats – grasps my hand tightly and hides behind my legs.
The fear of the new prompted him to grasp onto the familiar.

******

Today he chatters while we play at picnics, relaxing on his Big Bed, sitting on the monkey-patterned blanket, eating invisible food together. He stops, looks deadly serious and takes my hand in his.
"Thank you", he says. I am flattered, but confused.
"You're welcome," I reply.
He takes my hand again, grasps it more firmly.
"Thank you," he says. "Grace."
I suddenly make the connection.
"Lord Jesus, thank you for this food and this fun game. Amen."
I ponder the different ways that my boy has grasped my hand over these few years, the different motivations, but the same feeling of joy and love I have for him each time. Instinct; fear; thankfulness, friendship.
I think of the ways that I grasp onto God and the different motivations I have, and thank God that I not only take hold of God but He takes hold of me.
Over to you:
What are the different motivations for grasping hold of God that you have seen in your life?
This was my best five minutes on 'Grasp'. Also linking with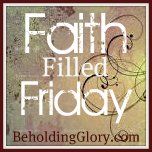 Liked this post? Do stay in touch – subscribe by email or like my Facebook page.