We sit upstairs, eating our breakfast, watching as the people walk past our house. From this vantage point, we can see a snapshot of people's lives – and they, rarely looking up, can't see us. Sometimes it feels like we should be sitting there with popcorn, my boy and me, as we look and comment on the people below and imagine their lives.
A woman goes past with a big black dog, walking briskly, focused ahead, comfortable shoes, big strides. I don't know whether she is excited to get to her day or trying to distract with the speed.
A lady, grey hair, shrivelled hands, pushes her trolley with tartan up the sides. I can't hear it, but I imagine the wheels squeaking and creaking, because that's how she looks too – the creakiness of old age and the everyday pain of living.
Three boys pass, in identical black clothing, their individuality stamped by their hairstyles: brushed forward or cut short or wiry and everywhere. They move as one, in a slow-moving mob, knit together somehow even as they want to shout their uniqueness.
These are the people who pass today. And God holds them all – how does He know all of our lives?
Sometimes I need to know the depth of God in my heart, how passionately and hugely he loves us. Today I am reflecting on the breadth of His love, that sweeps in the totality of ages and races and minutes and days, across oceans and nations.
I am not capable of loving that widely. I am glad that He is.
"And I pray that you, being rooted and established in love, may have power, together with all the Lord's holy people, to grasp how wide and long and high and deep is the love of Christ, and to know this love that surpasses knowledge" (Ephesians 3:17b-19a NIV)


Over to you:
Which do you most need to reflect on today: the breadth or the depth of God's love?
This was my best five minutes on 'Wide'. Also linking with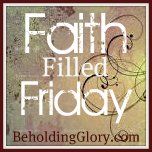 Liked this post? Do stay in touch – subscribe by email or like my Facebook page.