What do you do when you can't hear God's voice?
I write this from a place of frustration.
Someone asked me the other day how my relationship with God was going.

I said it felt like I was in a troubled marriage – I keep turning up for the dates, but the mealtimes are strained and awkward and neither party seems to have anything to say to one another. I'm reading the Bible, and I know it, I know it all – but it still feels like porridge, stodgy and wearisome and cold.
And the voice of God – I'm not hearing it! The voice of God that breaks the cedars of Lebanon, that has the sound of rushing waters, that makes wars cease – where is this voice? What makes Him so hard to hear?
I read my boy the psalms – 'I am like a deer who wants water – I'm thirsty for you, God!' and I know that psalm is the prayer of my heart.
So I stand here today and offer him my voice. I call to Him. I shout. I hunger and thirst for His words to me.
And somewhere in the middle of the calling and shouting I feel the whisper of God.
This was my best five minutes on 'voice'. Also linking with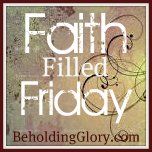 Over to you:
What helps you when God feels distant?
Liked this post? Do stay in touch – subscribe by email or like my Facebook page.