My family is crazy, and they drive me mad. They make me madder and hurt me more than anyone else can.

But don't you dare criticise my family. You don't have the right. They are mine to criticise and I'll defend them to the hilt.
*****
It has been a strange sort of week. We were there in the kitchen, listening to the speeches live, holding our breath as Archbishop John Sentamu read the results of the Synod vote, and we were so shocked we didn't know when to breathe out again.
I wrote about how I felt before the vote. We haven't had a divorce, but this is one of the more painful weeks in the Church of England that I can remember.
It was a shock. We knew it could happen, we knew it would be close, but we didn't really believe it would fall. And from that moment of silence, this week there erupted a volcano of rage, disbelief, and hurt; words spewing forth like molten wounds.

*****

I remember standing before a crowd of one hundred or so students belonging to a university Christian Union. As a staff worker to the Christian Union, I had been asked to say something. It had just been announced that half the exec had resigned, because they felt that their church tradition was not being represented, that they were being continually overlooked, treated as second best. It wasn't the fault of the present leadership, they were carrying the burdens of years of hurt, and that year it had all tipped over. In the student evangelical world, this is as near as you can get to schism, and the faces that looked up at me were shocked and white.

I said something – I can't remember what, but I remember the desperation and helplessness I felt, not knowing what would happen to the CU, whether this was one division too many. And then I stepped down off the stage and sat on the floor with the others for a time of open prayer.
A girl's voice rang through, someone who had been particularly hurt and sidelined. She prayed forgiveness and power. And she prayed repentance for the group as a whole, aligning herself with the CU that she had so often felt sidelined by. Another voice rang through from the other side, praying repentance, forgiveness, hope. Those students knelt at the feet of Jesus, crying out in pain and confusion, surrendering their anger and hurt, flinging that conflict to the throne of heaven, one voice after another, different voices melding together into a flow of repentance and reconciliation, knowing that the one that they had most hurt in the row was God himself.
The presence of God in that room at that time was tangible; in the emptying of ourselves we had been filled to overflowing with that goodness, the excruciating joy of the Spirit of God. I have never been in a prayer meeting like it, before or since. Even in the mess, we were on holy ground.
******
We are pragmatists in the Church of England. We rub alongside one another, in our different clans, sometimes uneasily, sometimes gladly. It shouldn't work, but we bimble along anyway, and it sort of does. We are family. We hate each other, and we whisper in our circles about how we would design things so much better, but we stay together, and we love one another.
I am praying that from the flames and ashes of this hurt and upset there would be the kind of miracle that only God can do – a compromise and sacrifice, and pain surrendered and misunderstandings and confusions covered over in love. I hope for a way that the family can stay together. I am praying for some holy ground: a flinging of ourselves on the throne of grace, a Spirit of peace, healing amidst the hurt.
I love the Church of England. The liberals are sworn enemies, and we view each other with suspicion – but I love them for reminding me of Christ the man, the one who understands, the lover of justice. I don't understand the Anglo-Catholics and their rituals – but I love them for reminding me of Christ the helpless infant, on Mary's knee; Christ the bread, our sustainer, our ever-present God. My own tribe I can sub-divide many times over, and I love them for reminding me of Christ crucified, Christ resurrected, Christ who will come again.
Don't you criticise my family. I love them. I am thankful for the Church of England.

This was my best five minutes on 'Thank you'. (Actually, this was more than five minutes, but this was something of an extraordinary week… Forgive me?)
Also linking with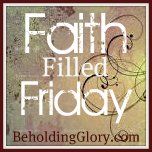 Over to you:
What do you love about your church?
Liked this post? Do stay in touch – subscribe by email or like my Facebook page.