It is hard for a good girl to know when she is walking away from God.
The bad girls and boys do it clearly. They ask for their inheritance straight up, off to gamble it away and say 'ciao for now, I'd actually rather you were dead, God.'
I don't tend to do that. But there is another type of walking away.
It happens in the day to day busyness, the loving of fun and distraction and the Internet more than true relationship. The edging away, the gradual letting go of priorities, the loosening of the fight for holiness, the blurring of the lines between culture and Christian, no longer being distinctive, fading into the background – until one day you stop yourself and ask, 'Am I eating pig swill? Have I abandoned the feasting in my Father's house for this?'
And I return to Luke 15, and need to read the words once more of that incredible picture of God as Father, standing at his home, honorable, faithful, hurt and injured but still loving. I need to pause awhile on that image of God seeing his child from a long way off, and breaking into a run – how God chooses indignity rather than grudge-bearing, how His very being speaks of joy and restoration and how He is just running, running, running to put His arms around us and welcome us home.
Over to you:
Which part of the story do you most need to hear today – the warning against walking away, or the joy of seeing God running?
This was my best five minutes on 'Welcome'. Also linking with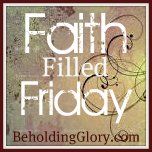 Liked this post? Do stay in touch – subscribe by email or like my Facebook page.